March 26, 2022, 1:00 PM - 7:30 PM
Cosmo's Cosmos: 100 Years of Birth, Death and Rebirth
Various Hyde Park Locations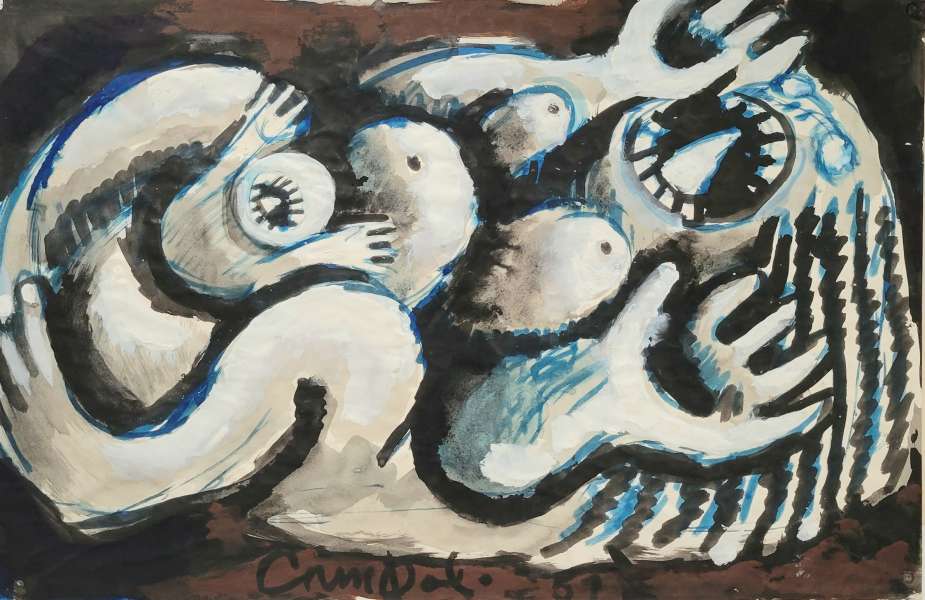 Courtesy of the Estate of Cosmo Campoli.
For reservations and more information
---
March 21, 2022, marks the centenary of the birth of sculptor and Hyde Park resident Cosmo Campoli. Campoli (1922–1997) was part of a group of postwar Chicago artists nicknamed the "Monster Roster," who created deeply psychological works that drew on classical mythology and ancient art. Campoli's work frequently centered on themes of birth and death. His sculpture, Bird of Peace, known colloquially as "The Egg," is a well-known piece of public art in Nichols Park.
Join Media Burn Archive for a daylong celebration of Campoli's life and work through a maker event, a historical tour, and a presentation featuring images, films, lectures, and storytelling.
1:00–4:00 PM ⎸Family Day: Kid-YOU-Topia! ⎸Smart Museum of Art
Join artist Laura Shaeffer for an interactive afternoon of hands-on projects that are inspired by sculptor Cosmo Campoli's playful 1970s engagements with the Hyde Park neighborhood and the visionary paintings on view in Bob Thompson: This House Is Mine. RSVP recommended.
4:00–5:30 PM | Kozmopoliz Kampopoliz: A Tour of Cosmo Campoli's Hyde Park ⎸Starting from the Logan Center for the Arts
Join tour guide Paul Durica, Director of Exhibitions at the Newberry Library, for a trolley tour through the Kozmopoliz, also known as Cosmo Campoli's Hyde Park. Campoli lived in the neighborhood for over 40 years, leaving his mark on everything from what was eaten at certain restaurants (Spaghetti A La Gargoyle, anyone?) to what was shown at the 57th Street Art Fair. This tour retraces his steps, searching out the bits of Hyde Park's past that survive to this day. Tickets required.
6:00–7:30 PM | Chicago Celebrates Campoli ⎸Logan Center for the Arts
Delve more deeply into Campoli's life and work through this program featuring images, films, lectures, and storytelling. Presentations include: a riff on Jean Debuffet's seminal 1951 lecture "Anticultural Positions" by Northwestern University Professor Rebecca Zorach; personal and artistic remembrances from renowned sculptor Virginio Ferarri; a screening of Cosmo's Cosmos, a 1981 documentary short by Annette Barbier and Terry Moyement; newly unearthed 1991 footage of Campoli performing his unique take on beat poetry, shot by filmmaker Joe Winston; and a screening of a cooking demonstration of Cosmo's Special Spaghetti by chef Won Kim of Bridgeport's Kimski restaurant. RSVP recommended.
Visit Media Burn's website for information on COVID protocols for this event.