#JustGoSeeIt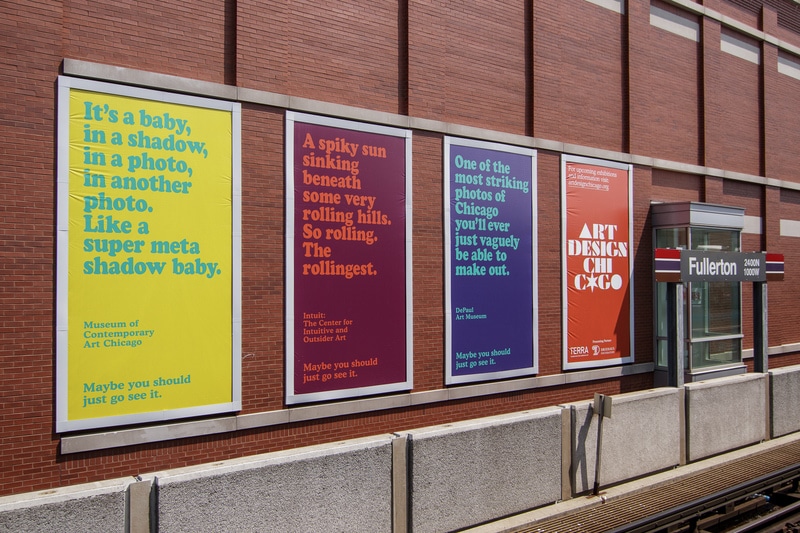 Keep your eyes peeled this summer and fall for Art Design Chicago's curiosity-building campaign Just Go See It. At bus stops and billboards, on CTA platforms, in the Chicago Cultural Center, and through digital ads, locals and visitors alike are encountering colorful creative headlines with cryptic teasers for artwork featured in Art Design Chicago exhibitions, as well as a selection of iconic Chicago public art pieces.
Browse the image gallery below to discover the Chicago public art riddles and their corresponding answers, and tune into Art Design Chicago's Facebook, Instagram and Twitter feeds to see even more Just Go See It content.
From there, we encourage you to #JustGoSeeIt for yourself in Chicago's parks, plazas, museums, and other art spaces.

Image credits:
Kenneth Josephson, Matthew again, 1980. Gelatin silver photograph c. 1995 print. Signed, titled, dated and annotated '80-35-49-38' in pencil by artist on print verso. 12 1/32 x 8 in. 
© Kenneth Josephson. Courtesy Stephen Daiter Gallery.
Edward H. Bennett, Buckingham Fountain, 1927. Sited in Grant Park. Image via Instagram. Photo by @kennycphotography.
Yasuhiro Ishimoto, Untitled, Chicago (El Over River), c. 1950. Silver gelatin print. Image: 7 1/4 in x 10 in. Collection of DePaul Art Museum, Gift of Stephen Daiter.
Alexander Calder, Flamingo, 1974. Located in Federal Plaza. Image via Instagram. Photo by @annie.cullen.
Joseph Yoakum (American, 1886-1972). The Mounds of Pleasure/on JA Brimms Farm Near Walnut Grove..., 1970. Ink and pastel on paper, 15 3/8 x 11 3/4 in. Richard and Ellen Sandor Family Collection.
Jeff Zimmerman, You Know What You Should Do, 2011. Located at the Oak Street Beach underpass. Image via Instagram. Photo by @russellbeaver.
Furniture sketch by Wolfgang Hoffmann for Howell, 1938. Chicago History Museum.
Richard Hunt, Winged Form, 1987. Located in the Aon Center Plaza. Image via Instagram. Photo by @hesgallery_h.
Magdalena Abakanowicz, Agora, 2004–2006. Sited in Grant Park. Image via Instagram. Photo by @helene.letourneau.
Pablo Picasso, Untitled, 1967. Located in Daley Plaza. Image via Flickr. Photo by Sharon Mollerus.