Pressroom
The online Art Design Chicago pressroom includes useful resources for media and public relations contacts. Scroll down to view press releases and fact sheets about the initiative. Contact our team (below) with any questions or content needs. To view a sample of recent media coverage, visit our News page.
---
---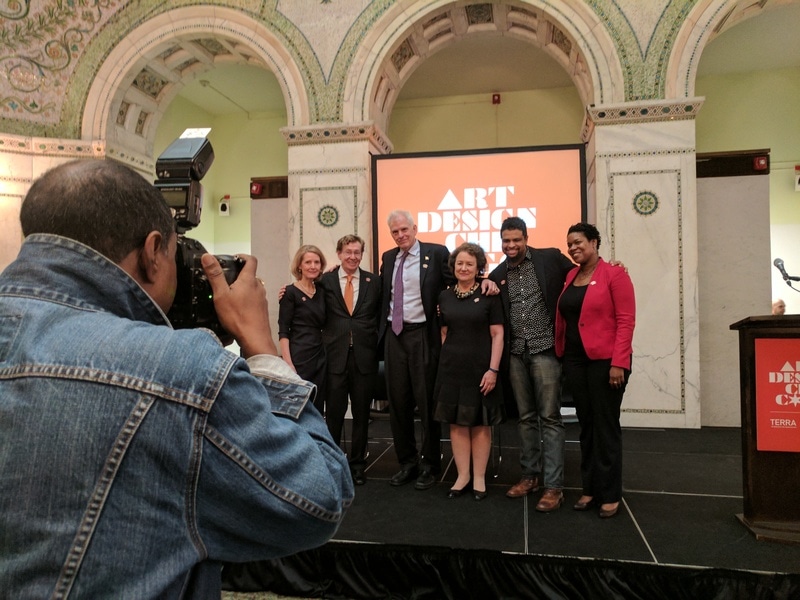 Explore below a list of press releases highlighting key news related to Art Design Chicago. Check back for more information as this list grows throughout 2018.
Art on theMART Announces Artists for First Iteration of the Largest Permanent Digital Art Projection in the World
August 23, 2018
Art Design Chicago Presents Celebrating South Side Stories, a Day of Lively Activities at Various Venues Highlighting Creativity on Chicago's South Side
August 14, 2018
Hans Ulrich Obrist's First U.S. Marathon, Crative Chicago: An Interview Marathaon, Announces First Look at Participant List
July 26, 2018
Terra Foundation for American Art Announces More Than $300,000 In Grants for New Art Design Chicago Projects
March 29, 2018
Art Design Chicago Announces Spring and Summer Public Tour Schedule
March 27, 2018
Terra Foundation for American Art Announces New Art Design Chicago Education and Exhibition Programs To Take Place Throughout 2018
November 9, 2017 (Updated December 5, 2017)
Art Design Chicago, A Year-Long Initiative Spearheaded by Terra Foundation for American Art, Explores Chicago's Pivotal Role In Global Art and Design Movements and Innovations
October 11, 2017
Chicago Humanities Festival to Present "Creative Chicago: An Interview Marathon" with Hans Ulrich Obrist, Part of Art Design Chicago 2018
September 13, 2017
Terra Foundation for American Art Announces $2.5 Million in Grants and New Grantees for Art Design Chicago
June 29, 2017
Smithsonian Archives for American Art Launches New Guide to Chicago's American Art Resources
April 28, 2017
The Terra Foundation Announces Art Design Chicago
April 4, 2017
---
The following documents provide more background on Art Design Chicago, an initiative of the Terra Foundation for American Art with Presenting Partner The Richard H. Driehaus Foundation.
Art Design Chicago Electronic Guide Book
---
For downloadable logos, images and video files, please contact our team listed below.
For National/International Inquiries
PAVE Communications & Consulting
Sascha Freudenheim
sascha@paveconsult.com
+1 917 544 6057
Alina Sumajin
alina@paveconsult.com
+1 646 369 2050
For Local Inquiries
Carol Fox & Associates
Nick Harkin
nickh@carolfoxassociates.com
+1 773 327 3830
For Other Inquiries
Art Design Chicago
Terra Foundation for American Art
120 East Erie Street, Chicago, Illinois 60611, USA
Maureen Jasculca, Communications Manager
jasculca@terraamericanart.org
+1 312 229 4763